TK4100 Read Only 125khz Nylon Rfid Bracelet Wristband
RFID Wristbands, also known as RFID wristwatch card, is a convenient and durable smart RF profiled card for wearing on the wrist. It is made of nylon. Nylon Wristbands has the advantages of environmental protection, comfortable, easy to carry, no cracking,, damp proof, shockproof, high temperature resistance, long service life and no irritation to the skin. Custom Event Wristbands loved by domestic and foreign customers.
Rfid Chip Bracelet Feature:
1. easy-to-wear, easytouse, attractive and durable
2. Additional Craft, Logo printed, Laser numbering, barcode, etc
3. Sample: free of charge
4. Encoding: Available.
5. Printing: Silkscreen, Offset printing.
Material: Nylon
Size: 260mm Length
Chip: TK4100 (Other chip seethe chips sheet)
Frequency: 125khz
Protocol: ISO14443A
Reading range: 0.5Cm - 5CM, relative with readers.
Datas program: Variable numbers, URL, texts, etc, read only, encrypted
Craft: Logo printing, datas program, QR code, numbers printing, custom package.
Working environment: -25℃ to 70℃
Application: widely used on campuses, amusement parks, buses, access control areas, concerts, and tickets and so on.
Our Services:
3-5 days fast samples making
Custom datas program
OEM/ODE capability. Custom size, shape, printing and material all available.
Size & Product Overview:

Application for rfid Wristbands: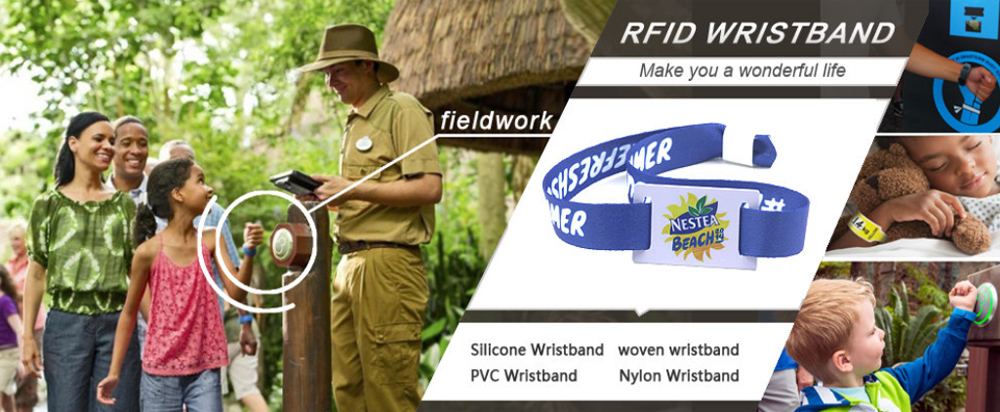 Chips Available for RFID Wristbands:
NFC Type 2, ISO14443A,

13.56MHZ




NTAG® 213 (144 bytes)

NTAG® 215 (504 bytes)

NTAG® 216(888 bytes)

NTAG® 210 (48 bytes)

NTAG® 212 (128 bytes)

NTAG®413 DNA (160 Bytes)




NTAG® are registered trademarks of NXP B.V. and are used under license.

NFC Type 2, ISO14443A, 13.56MHZ




MIFARE® Ultralight® EV1 (48 Bytes)

MIFARE® Ultralight® C (148 byte)




MIFARE and MIFARE Ultralight are registered trademarks of NXP B.V. and are used under license.

NFC Type 4, ISO14443A, 13.56MHZ




MIFARE® DESFire® 2K / EV1 2K / EV2 2K

MIFARE® DESFire® 4K / EV1 4K / EV2 4K

MIFARE® DESFire® 8K / EV1 8K / EV2 8K




MIFARE DESFire are registered trademarks of NXP B.V. and are used under license.

ISO14443A, 13.56MHZ




MIFARE® Classic 1K Bytes

MIFARE® Classic 4K bytes




MIFARE and MIFARE Classic are registered trademarks of NXP B.V. and are used under license.




MIFARE Plus® S 1K

MIFARE Plus® S 1K SE

MIFARE Plus® S 2K / S 4K

MIFARE Plus® X 2K / X 4K

MIFARE Plus® EV1 2K / 4K




MIFARE and MIFARE Plus are registered trademarks of NXP B.V. and are used under license.

ISO15693/ISO18000-3, 13.56MHZ




NXP® ICODE® SLI (1Kb)

NXP® ICODE® SLI-X (1Kb)

NXP® ICODE® SLI-S (2Kb)

NXP® ICODE® SLI-L (512b)




ICODE® are registered trademarks of NXP B.V. and are used under license.

125KHZ




TK4100, EM4200, T5577, EM4305

860MZH-960MHZ, 18000-6C




Alien H3, Impinj, Ucode GEN2
Kategori produk : Nylon RFID Wristbands